On this day in 1969, astronauts Neil Armstrong and Buzz Aldrin landed the Apollo 11 Lunar Module Eagle and became the first men to walk on the surface of the moon (or not, if you're one of those people who believe The Shining was Stanley Kubrick's admission of guilt for his part in the faking of the moon landing). To celebrate the anniversary of this momentous occasion, let's take a look at some depictions of astronauts – both real and fictional – in pop culture.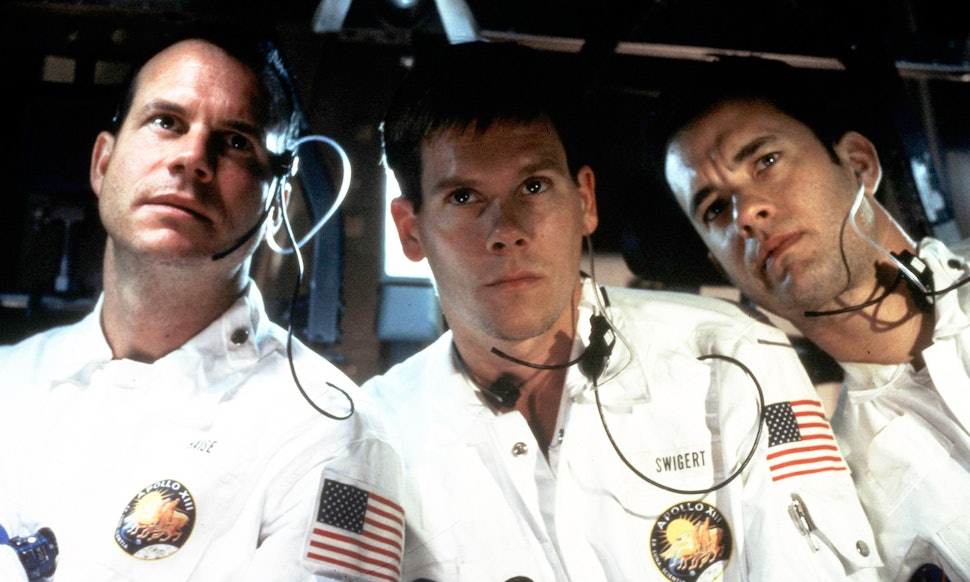 Apollo 13 kicks off on the night of Armstrong and Aldrin's moon walk; Jim Lovell (Tom Hanks), who orbited the moon for Apollo 8, is having a watch party at his house. Nine months later, Lovell, Fred Haise (Bill Paxton) and Jack Swigert (Kevin Bacon) are on their way to the moon as the crew of Apollo 13. Three days into the mission, disaster strikes: Lovell, Haise and Swigert won't make it to the moon – and they might not make it home either. Ron Howard (who should have won a Best Director Oscar for this film, not A Beautiful Mind) wows us with the most realistic rendering of space to date (as of 1995, that is), but also crafts an emotionally resonant story of survival. The ending is a foregone conclusion, but Howard still manages to create tension for the audience. And the whole thing is anchored by lovely performances from Hanks and the crew, Ed Harris as Gene Kranz, the sensational Kathleen Quinlan as Marilyn Lovell and a supporting cast of dozens. For its efforts, the cast won the Screen Actors Guild Award for Outstanding Performance by a Cast in a Motion Picture, and the film was nominated for nine Oscars. It is my personal favorite movie on this list.
2001: A Space Odyssey, Stanley Kubrick's bonkers collaboration with Arthur C. Clarke, is arguably the greatest science-fiction film of all time, although reviews were mixed upon its release. Exploring themes of existentialism, human evolution and artificial intelligence, 2001 was praised for its realistic depiction of space life and its cutting-edge special effects (for which Kubrick won the Oscar). But not everyone appreciated the film; at the premiere in Los Angeles, Rock Hudson left early, purportedly asking "What is this bullshit?" on his way out the door. 2001 is an incredible journey through millions of years of evolution, with extended wordless sequences set to classical music. Don't try to understand it, just sit back and enjoy it; weed is optional but I highly recommend it.
From the Earth to the Moon
From the Earth to the Moon, HBO's 12-part miniseries about the Apollo space program of the 1960s and 70s, was the brainchild of Tom Hanks. After starring in Apollo 13, Hanks felt the need to live in that world a little longer. Andrew Chaikin's A Man on the Moon: The Voyages of the Apollo Astronauts served as inspiration for the series, which is more like twelve short films; the episodes were directed by ten different people, and each episode has its own distinct point of view. Although the sprawling cast primarily play real people, the narrative is aided by the addition of several fictional characters like Emmett Seaborn (Lane Smith), a Walter Cronkite-esque television reporter. From the Earth to the Moon was nominated for a whopping seventeen Emmy Awards and won three, including Outstanding Miniseries.
The less you know about Moon, Duncan Jones' brilliant first feature, the better. The role of Sam was written specifically for Sam Rockwell, and Rockwell knocks it out of the park. How was he not nominated for a Best Actor Oscar? Anyway, no spoilers here, just watch this gem already.
The story of the Mercury space program of the 1950s and early 60s, The Right Stuff was a box-office bomb but one of 1983's most highly honored films, earning eight Academy Award nominations and winning four Oscars (Best Original Score, Best Sound, Best Sound Effects Editing and Best Film Editing). Directed by Philip Kaufman, The Right Stuff was an adaptation of the acclaimed book by Tom Wolfe. Chuck Yeager was on-hand to ensure historical accuracy (although substantial dramatic liberties were taken). The talented cast is headed up by Sam Shepard (as Yeager), Fred Ward (Gus Grissom), Dennis Quaid (Gordon Cooper), Ed Harris (John Glenn) and Scott Glenn (Alan Shepard).
The Martian, based on Andy Weir's inventive 2011 novel, finds botanist Mark Watney (Matt Damon) stranded on Mars alone after he is presumed dead. With his crew on their way back to earth, rescue is literally years away and there's not enough food to keep him alive for that long. So Watney, in his own words, has to "science the shit out of this". Damon strikes the right balance between gallows humor and Watney's will to survive, and the supporting cast is heaven (Jeff Daniels, Michael Peña, Jessica Chastain, Sean Bean, Kristen Wiig, Donald Glover and Chiwetel Ejiofor, just to name a few). The Martian was a box office and critical success, and was nominated for seven Oscars.
Hidden Figures contains a lot of inaccuracies (for one thing, NASA facilities desegregated in 1949, twelve years before the events depicted in the film) and it comes off as white savior-ish, but it tells an important story: the black women who worked at NASA and helped make American space flight possible. I just wish the movie had better served those woman – Katherine Johnson, Dorothy Vaughan and Mary Jackson – AND the divine actors playing them (Taraji P. Henson, Octavia Spencer and Janelle Monáe, respectively).
SpaceCamp was a marketing nightmare: the movie was released five months after the Challenger shuttle explosion (though filming was completed well before), and many felt the film was trying to capitalize on the disaster. SpaceCamp made only about $10 million, well below its budget. But it was a movie that I loved, primarily due to its winning cast – Kate Capshaw, Tom Skerritt, Lea Thompson, Tate Donovan, Larry B. Scott, Kelly Preston and a baby Joaquin Phoenix (who at the time went by the name Leaf). The premise is beyond ridiculous: the campers are allowed inside the space shuttle during a routine test, but the boosters accidentally ignite and NASA is forced to launch the shuttle with five campers and only one actual astronaut (Capshaw's Andie) on board. But I've always believed in exercising a healthy suspension of disbelief; if you can do the same, you'll enjoy SpaceCamp too.
Expectations were high for First Man, Damien Chazelle's 2018 biopic of Neil Armstrong. Two years earlier, Chazelle had become the youngest winner of the Best Director Oscar, First Man reteamed him with his La La Land leading man, Ryan Gosling, and Claire Foy (as Janet Armstrong) had just won every possible award for her portrayal of Queen Elizabeth II on Netflix's The Crown. And while First Man was a commercial disappointment, it's a lovely film with an incredible cast and knock-your-socks-off visual effects (for which it deservedly won the Oscar).
One of the most critically acclaimed films of 2013, Gravity is a technical tour de force. Alfonso Cuarón utilized cutting-edge technology to create a hyperrealistic interpretation of space. Sandra Bullock gives the film its heart as Dr. Ryan Stone, a medical engineer on her first space mission. Stone, still reeling from the death of her daughter, soon finds herself alone when space debris irreparably damages the shuttle and kills her fellow crew members. Gravity is less a sci-fi film and more of a survival tale; think Cast Away in space. The film earned a worldwide gross of more than $700 million and was nominated for ten Academy Awards; though 12 Years a Slave won Best Picture, Gravity won the most awards of the evening, including Best Director for Cuarón, Best Cinematography, Best Film Editing and Best Visual Effects.
Armageddon is not a great movie. The script (co-written by J.J. Abrams!) is garbage. There's zero chemistry between Ben Affleck and Liv Tyler (and don't get even get me started on the animal cracker love scene). It's indulgent and over the top in the way that Michael Bay movies are. It's too long by at least 30 minutes. And it's so inaccurate that NASA shows the film in management training sessions where new managers are tasked with finding the errors. And why does it have to be so loud? The first time I saw Armageddon, I was annoyed at my then-boyfriend because he vetoed seeing Saving Private Ryan, which had just been released that day (we saw Ryan a couple weeks later). And I had a headache, which the film only exacerbated. I didn't enjoy it at all. Upon watching it a second time, sans headache, I updated my initial review. It's still big and loud and dumb, but it's also entertaining as hell.
This is a great video on how special effects in space movies have evolved over the years, and it touches on several of the films on this list.